UPDATE:
All our runners successfully completed the marathon, so a huge thank you to them all.
A sum of  3200 Euros has been collected, however, it is not too late to add your donation.
Thank you for all who have supported this initiative.
Sunday 28th November 2021 is the date of the next Nice-Cannes Marathon, and we are excited to report that we have a team of runners again taking part in support of Cancer support group 06.
Please show your support by donating now to Cancer06: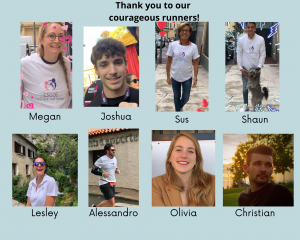 Lets introduce them here:
Running the whole Marathon
Christian Betti was born in Beaumont (France) on 8 July 1998. Raised in a family of driver pilots, in 2013 he opens with his brother Gabriel a YouTube channel dedicated to the editing of motivational sports videos.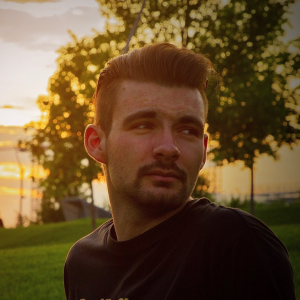 The channel in question today has more than 230,000 members. Oriented toward Economic and Social Sciences, in October 2016 he began his career at the European Institute of Design in Milan by attending the Video Design course. At the same time he also began his career as a freelance filmmaker and videomaker. His strong passion for sport led him to want to write and produce a medium-length film entitled "Senza Vento" as a thésis. Running for CSG06 means to contribute to find a cure for cancer and to collect as much as possibile for the association to continue to be active for those fighting this disease, so be generous please.
Shaun took part in 2019 edition of the Marathon and managed to raise a considerable amount of money. Thank you Shaun for coming back again! Life has it that Shaun would go through cancer himself last year, but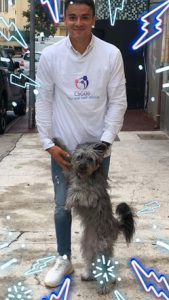 now in full remission he is ready to run the full marathon. Here is Shaun in his own words: "Hi, I'm Shaun and I really hope that given all circumstances, you will be extra generous and donate as much as you can. I promise I'll run for you and beat this!!"
We then have a relay team who between them will cover the whole marathon. Lets introduce them in the order that they will run here: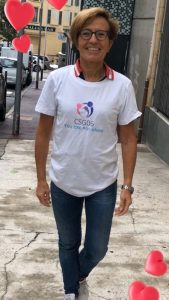 Sus will start from Nice. She is our oncologist nurse, a highly trained lady who regularly participates to Cogs4cancer challenges and who is an inspiration to us all. Here is Sus in her own words: 'I'm the head nurse for the chemo department at the Private Hospital Arnault Tzanck in Mougins – and member of the CSG06, – one of the 3 person who started it! I have been treating cancer patients for 25 years!!'
Taking over at Saint-Laurent-du-Var is Lesley. 'Hey everyone I'm Lesley and I'm back ready to run my second edition of this Nice-Cannes marathon relay with my CSG06 Team! I'm very proud and honoured to be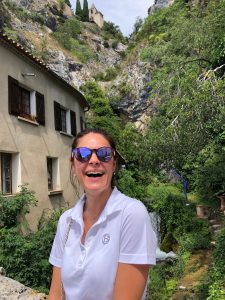 here again with CSG06 association as they have been of great support to my family when we most needed it. Please join us on this journey and keep supporting their wonderful work in helping people going through cancer. Once again I count on your big help and generous wallets.
Olivia will take over from Cagnes sur Mer. Introducing Olivia: 'Hello my name is Olivia McNamara, I live in Henley-On-Thames and I am a Procurement Manager at LeasePlan. I have decided to run as I always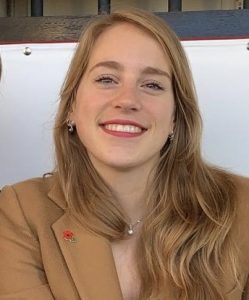 participate in a charity event and  I know multiple people who have been attained by cancer. I admire this cause greatly and hope to raise more awareness. Please support us on this run so that individuals can gain more and more knowledge on the topic.'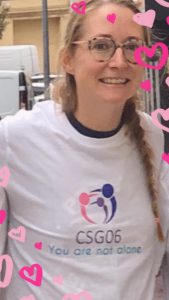 Megan will take over from Villeneuve Loubet. 'Hi, I'm Megan, running with a Joie de Vivre and happy to be raising money for an association whose aim is to lift each other up and carry each other's burdens. I am familiar with the challenges involved with being far from home, surrounded by a foreign language and a foreign health care system. I'm hoping to help CSG06 add to their financial resources as they continue to bless people's socks off.'
Next, Joshua will take over running from Antibes Juan-les-Pins. Introducing Joshua: 'Hi, my name is Joshua and I'm 18 years old. I started running with my dad when I was about 10 years old, and although I don't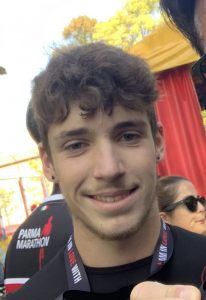 have the time to run regularly due to my studies, I still run every now and then. I'm really into sports and would like to become a personal trainer, and running for a great cause like this gives me joy and passion."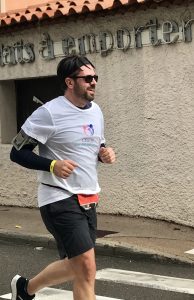 Finally, Alessandro will take the final section through from Vallauris Golfe-Juan to to Cannes. 'Hi, my name is Alessandro, I'm 47, Italian, living with wife Victoria and kids on the Côte d'Azur since 2001, with a 9 years 'break' in the UK. I started running almost 8 years ago, in response to an episode involving my heart that made me realise how overweight and unfit I was; I have been going out 2/3 times a week since almost ever since. I will hopefully run again a 16km (and 51 bridges!) in April next year in Venice and I would like to try a half marathon one day.  I lost a family member to cancer a couple of years ago and I know and I have seen many being hit by this disease, most of them still fighting to defeat it!'
Sending our heartfelt thanks to all the runners, and we wish them Bon Courage!
Please show your support by donating now to Cancer06:
"