A Marathon in A DAY of a therapist's life….
This is the third time that CSG06 was present at the Nice Cannes Marathon.
The first year (2018) we entered as part of the Mimosa Matters relay team; in 2019 we had our own relay team and this year again we had a relay team plus two runners for the full marathon.
The preparation started around September when we needed to have an idea of who wanted to participate. An ongoing WhatsApp group was created for general broadcasting of news.
This year we had runners from various parts of Europe: Shaun and Olivia who flew in from the UK, Christian who came in from Italy and Ale, Lesley, Joshua, Megan and Sus locally based.
As always, it starts very gently, just like the marathon itself: around September we start reminding people that we are two months away, only to find ourselves rushing like crazy as suddenly one more week and the Marathon is on.
What's the mad rush about, you may ask?
Runners need to be registered, medical certificates obtained, T-shirts ordered and printed with CSG06 logos, plus this year we had Victoria providing ribbons made with the name of clients we helped (and the runners ran with a ribbon or two pinned to their shirts), photoshoots, AND the fundraise campaign begins! Facebook, emails, website, one to one chats, anything that would prompt someone's generosity and give toward our association.
This year we were greatly helped by Ale, as always at the helm of the registrations, prompting and reminding people to send their own information to enrol them, and going to Nice to pick up the kits for everybody.
Shaun got involved with the ordering of the Puma t-shirts (more comfortable than previous brands, so he maintains…) and the printing of the logo.
Anna became our chauffeur on M-day, collecting the relay people at their arrival point and shuttling them to the finish line in Cannes.
John offered his services as photographer and gave us the best photos ever!
The Saturday was Synchronising Day: we all met at the HQ to define the following day in the smallest details. And by this I mean: finding out how fast people would run a relay to prepare the hand over at each relay station, determine pick up points in areas where cars aren't allowed, shuttling of bags containing changing gears, organise transfer to Nice, distribution of marathon packs, ribbons, make sure everyone had their T-shirt, water bottles,  WhatsApp geo localisation etc.
Here were the runners for their pre-marathon photos…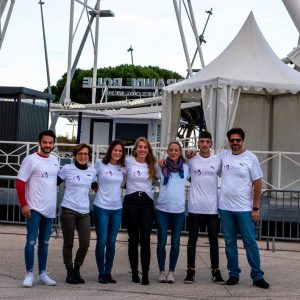 The only one who was missing was Christian who that day was racing in Croatia in the Twingo Cup! He finally managed to drive back to Milan in the afternoon and board a train to Nice arriving on Sunday (the M-day) at 1am!

For many the day started very early (5am!) : Anna arrived at 6am picking up Shaun and myself. Christian phoned at 5.30 asking what he should eat pre-run?!? He was told to forget the Kinder Bueno, and down some pasta…!
By 6.30 we picked him up and got to our Carrefour meeting point where John and Sus joined us. Off to Nice, hoping the rest of the team would be able to get to their relay positions (St Laurent du Var, Cagnes sur Mer, Villeneuve Loubet, Antibes, Golfe Juan) with no hassle.
It's always quite magical to get to Nice before sunrise with thousands of people coming from everywhere converging on the same point (no, no social distancing in getting through security…): check out the live feed on our Facebook page.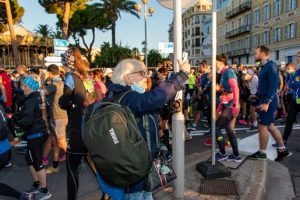 At 8.15 the start. Over 10,000 people got off on the right foot and started the adventure.
John and I tried to get to the various relay stations, but we only managed Villeneuve Loubet where we saw Olivia exchanging with Megan .
Plenty of photos were taken then.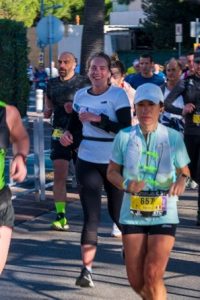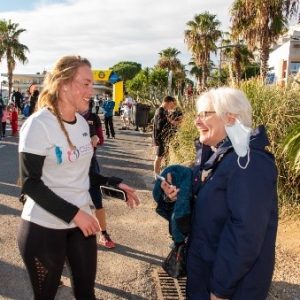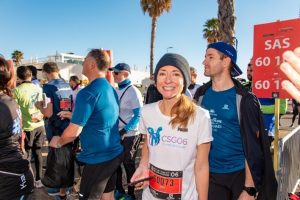 We also managed to quickly get to Antibes but too late to see Megan relaying with Joshua!
So, we went straight to Cannes where we met up with Sus, Ale, Joshua, Olivia and Lesley, waiting for Shaun to finish in just 4 hours, and then Christian, who without the Kinder Bueno managed to finish in 6 hours!!
Congratulations to our team and  see you all next year…
Eli Cookson